MEDICA is one of the largest exhibitions in the medical industry for hospital and medical equipment. Since the establishment, in more than 40 years, MEDICA has been attracting the industry's best manufacturers to participate in and gathering visitors from all over the world. This year, MEDICA 2021 was held together with the German medical manufacturing accessories and raw materials exhibition—COMPAMED 2021 in Dusseldorf, Germany from 15 till 18 November. After the four-day run as an in-person event, MEDICA 2021 and COMPAMED 2021 gathered 3,523 exhibitors and 46,000 visitors from 150 countries.
Prunus as one of the leading manufacturers for ICU & anesthesia devices in China, of course wouldn't miss such a platform to present our proud products to the world. Various models of Prunus ventilators and anesthesia machines were shown on MEDICA 2021. Padus 8 is a cutting edge bedside therapeutic ventilator with lung protection kits and weaning tools to facilitate clinical treatments. Its tidal volume that as low as 2mL enables Padus 8 to be applicable to neonates. The dexterous and fashionable design of Padus 8 attracted many visitors to stop by.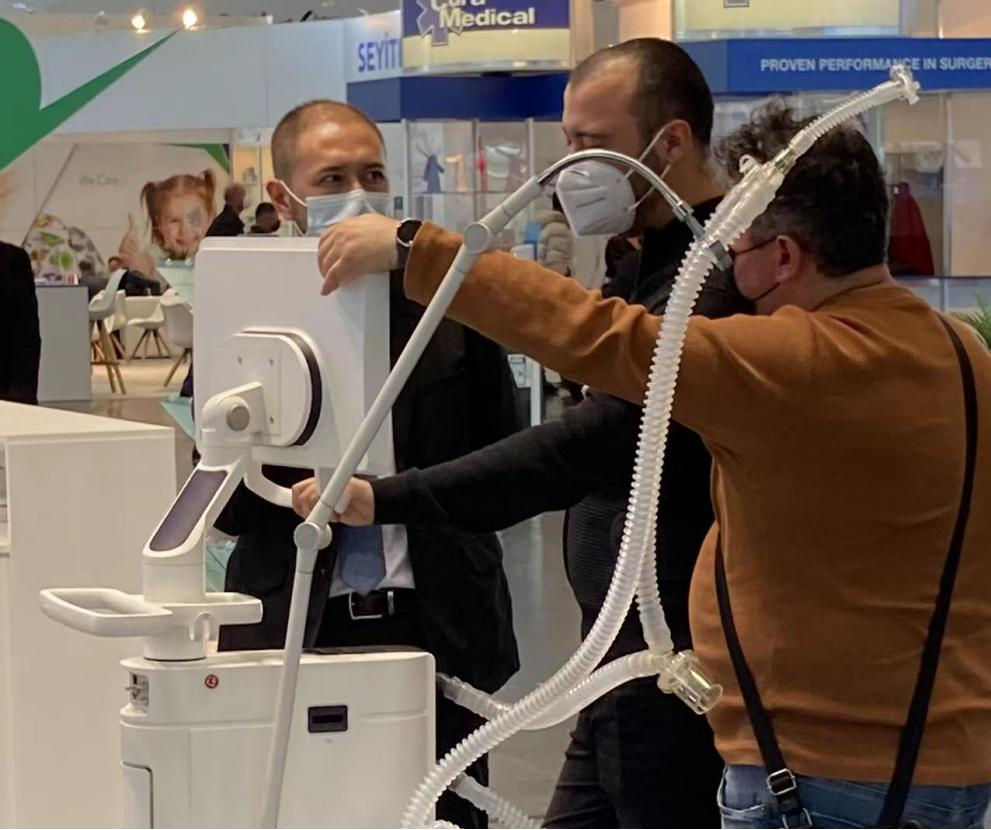 Visitors are interested in and consulting about Padus 8.
Noticeably, Bioptimal, the new subcompany of Prunus through the acquisition last year, also shared the exhibition booth with Prunus bringing its advanced medical consumables including tip cystic dilatation foley catheter, control and prevention of infection foley catheter, central venous catheter, Biotrans blood pressure transducers, bipolar pacing catheter and so on. The predecessor of Bioptimal is Biosensor international. Founded in 1990, Biosensor has been engaged in the R&D, production and sales of intensive care interventional medical consumables for nearly 30 years. The acquisition by Prunus is intended to extend and broaden Prunus solutions for OR, ICU and emergency.
Prunus & Bioptimal in MEDICA 2021
MEDICA 2021 was an great opportunity to bring our confident products to the world and seek for potential business cooperation. With 15 years of concentration on R&D of ventilators and anesthesia machines, Prunus deserves and ought to seek for more channels and opportunities to present our products to more customers. Let's mark this successful exhibition in the journal of Prunus internationalization and keep on sailing. See you on MEDICA 2022!